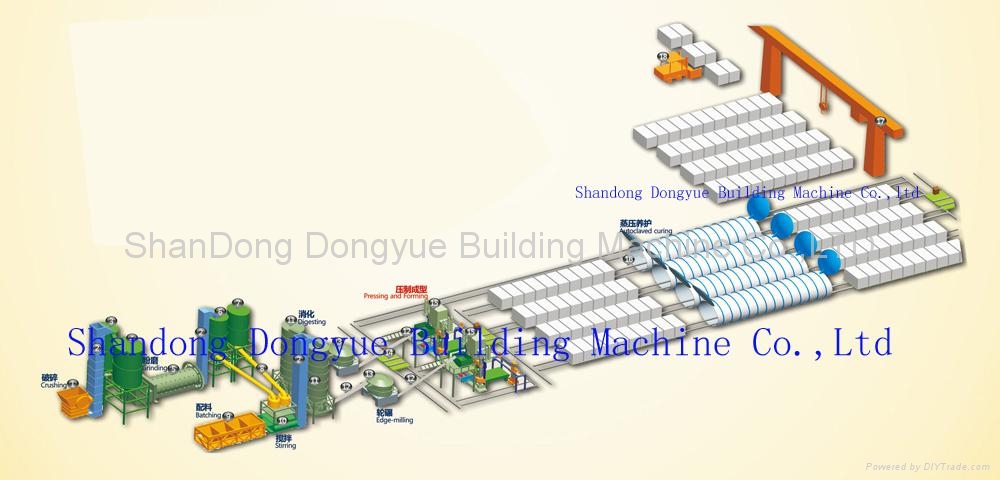 sand lime brick making machine

Sand Lime Brick Machine Introduce

1. Sand Lime Brick Machine characteristic

(1) with big forming pressure, with unique double direction press forming, can assure the ram material interface structure densification

(2)half dry hardness material after passed double direction press forming the finished product geometric element very accurate, its error just ±1mm, its shrink value can be ignored

(3)with high strength, the slag, fly ash, sand-lime, coal refuse, and so on used as the material to make blocks, the fly ash max putting is 70%

(4) with low cost material, and the ram material ration can be mixed depend on blocks strength

(5) no need forming pallets, the blocks can be stacked directly after product, and reduce produce cost.

2.Sand lime brick machine raw material ration, its design foundation as the following:

1. satisfy all the physical, mechanics performance index and durability required

2. the lime quantity should as less as possible to reduce cost

3. try to select low cost aggregate and raw material

4.the material ration should matched with the process condition and the blocks required grade.

3. Sand lime brick machine forming machine advatage:

controlled by PLC, it is collected the machine, electrical, hydraulic into this machine. It can finish the pressure, de-mould, take bricks, and feeding material by automatic; can produce many kinds of fly ash brick, lime-sand brick, solid brick, porous bricks, hollow bricks and energy-saving brick. The forming machine have the following characteristic:

1. with unique double direction press forming technology

2. depend on the material change during produce process, it have density self-regulation function

3. have touch screen operation and display function, reduce the electrical fault because of environmental condition difference.

4. mould lining board can use above 150000 times ,and easy to change. Usually can grind twice, that increase the lining board using lifespan.

5. the up-down mould made by unique nonstick mould material, it solved the hard problem which the lime product easy stick mould. Make the product neatly

6. Have paragraphing pressure, air exhaust function, during pressure the bricks, its gapping place air can be exhausted very well. It solve the problem which other model machine because of have not good air exhaust function to make the bricks have flaw after autoclaved

7. have unique material even feeding function, increase the suitability of the material mixing for the forming machine.

8. it can produce many kinds of bricks just change the moulds.